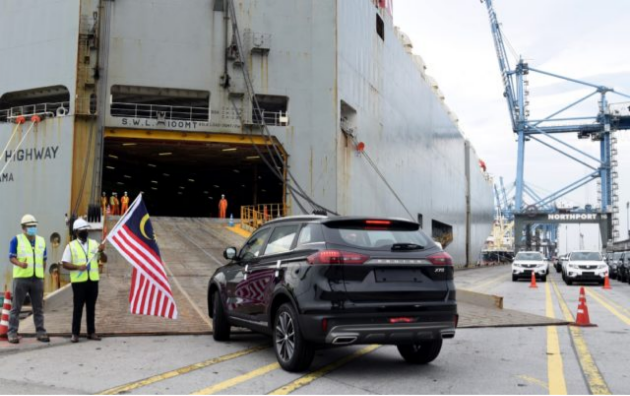 Malaysian carmaker Proton makes a return to South Africa by entering into an agreement with Combined Motor Holdings (CMH) to be a distributor for its vehicles locally.
The deal will see the first shipment of fully imported models go on sale in September, with the Proton X50 and X70 currently confirmed for sale later this year. The Proton Saga is also expected to be made available for sale in the country at a later date.
In 2015, Proton announced that it would halt sales in South Africa, citing deteriorating market conditions. At the time it said that the brand would remain active in the country, with after-sales support continuing for as long as there is demand.
"We are exploiting the strength of our new products, our brand, and even the links Malaysia has with other countries to establish a foothold in many new markets," said Proton international sales director Steven Xu.
"Our new model range offers advanced features that are on par with many competitors from other brands and in many of our markets, the X50 and Proton X70 sit near the top of their class in terms of specifications yet are sold at prices equivalent to or less than their direct rivals," he said.
The Proton X70 costs RM94,800 in local currency – R348,000
The Proton X50 costs RM79,200 – R290,000
CMH Group confirmed to BusinessTech that it has been appointed as the importer and distributor of Proton vehicles for South Africa.
"Proton is a member of Geely Holdings which is a Fortune Global 500 company and now the 9th largest automotive group globally. Volvo, London Electric taxi, Polestar, Lotus and Zheekr are all subsidiaries of Geely Holdings.
"The new Proton range will make use of the new generation energy-efficient drive train developed jointly by Geely and Volvo. Dealer development and set-up costs will be absorbed during the current year, so it is unlikely that the project will have a significant impact on earnings during the year to February 2023."
The return of Proton to South Africa follows the news that Japanese vehicle manufacturer Nissan has ceased all production under the Datsun brand. Datsun gained traction in South Africa's lower-end market through the sale of its popular GO sub-brand.
"As part of Nissan's global transformation strategy, Nissan is focusing on core models and segments that bring the most benefit to customers, dealer partners, and the business," Nissan South Africa said.
"We can reassure all existing and future Datsun owners that customer satisfaction remains our priority, and we will continue to provide the highest levels of aftersales service, parts availability, and warranty support from our national dealership network."
Source: https://businesstech.co.za/news/motoring/581344/proton-cars-to-make-return-to-south-africa-later-this-year/